Life Lessons: Book of Ephesians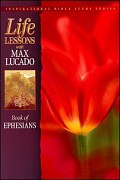 Overview
The letter of Ephesians, Lucado says, "celebrates the beauty of the church "the Bride of Christ," redeemed by the His blood and wearing spotless His righteousness." Each lesson has a scripture passage, and inspirational reading, questions to answer, space for journaling, and a prayer.
Product Details
Title: Life Lessons: Book of Ephesians
Author: Max Lucado
Publisher: Word Publishing
Publication Date: 1998
Pages: 106
Reviews
What other people are saying about Life Lessons: Book of Ephesians.