Word Biblical Commentary, Volume 34b: Mark 8:27–16:20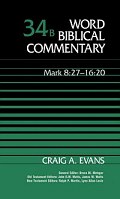 Overview
Thoroughly engaging with the massive body of scholarship on Mark, Craig Evans's commentary presents a thorough textual, historical, and theological examination of Mark. He addresses "the synoptic problem" and provides an engaging and stimulating exposition on the church's second gospel.
Product Details
Title: Word Biblical Commentary, Volume 34b: Mark 8:27-16:20
Author: Craig A. Evans
Editor: Ralph P. Martin
Series: Word Biblical Commentary
Publisher: Thomas Nelson
Publication Date: 2001
Pages: 594
About Craig A. Evans
Dr. Craig A. Evans received his PhD in New Testament from Claremont Graduate University and his DHabil from the Karoli Gaspar Reformed University in Budapest. He is the John Bisagno Distinguished Professor of Christian Origins at Houston Baptist University in Texas.
Evans taught at Trinity Western University in British Columbia for 21 years, where he directed the graduate program in biblical studies and founded the Dead Sea Scrolls Institute. He has recently served on the advisory board for the Gospel of Judas for National Geographic Society and has appeared frequently as an expert commentator on network television programs.
Evans has written and edited extensively on the historical Jesus and the Jewish background of the New Testament era. His published works include From Prophecy to Testament, Jesus and the Ossuaries, Jesus: The Final Days, and Dictionary of New Testament Background.
Reviews
What other people are saying about Word Biblical Commentary, Volume 34b: Mark 8:27–16:20.