Life Lessons: Book of Acts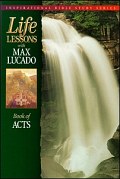 Overview
Twelve lessons explore how the same men who doubted in Galilee, argued in Capernaum, and ran for their lives in Gethsemane are transformed by the resurrected King in the book of Acts. With scripture reading, inspirational readings, questions to answer, space for journaling, and a prayer, it's like studying the Bible with Max Lucado.
Product Details
Title: Life Lessons: Book of Acts
Author: Max Lucado
Publisher: Word Publishing
Publication Date: 1997
Pages: 106
Reviews
What other people are saying about Life Lessons: Book of Acts.