Life Lessons: Book of Hebrews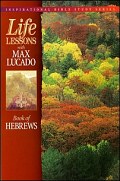 Overview
Hebrews was written for Jewish believers torn between their new faith and their old routines and rituals. Lucado explains that Christianity, God's New Covenant is better in every way than the Old Covenant. With scripture reading, inspirational readings, questions to answer, space for journaling, and a prayer, it's like studying the Bible with Max Lucado.
Product Details
Title: Life Lessons: Book of Hebrews
Author: Max Lucado
Publisher: Word Publishing
Publication Date: 1991
Pages: 107
Reviews
What other people are saying about Life Lessons: Book of Hebrews.