In the Grip of Grace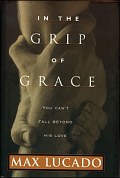 Overview
Can anything separate us from the love of God? Can you drift too far? Wait too long? Out-sin the love of God? The answer is found in one of life's sweetest words-grace. Max Lucado shows how you can't fall beyond God's love. "God doesn't condone our sin, nor does He compromise His standard. Rather than dismiss our sin, He assumes our sin and incredibly, sentences Himself. God is still holy. Sin is still sin. And we are redeemed."
Product Details
Title: In the Grip of Grace
Author: Max Lucado
Publisher: W Publishing Group
Publication Date: 1996
Pages: 184
Reviews
What other people are saying about In the Grip of Grace.