Truth for Today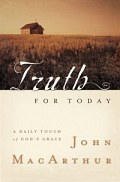 Overview
In the tradition of Max Lucado's Grace for the Moment and Charles Swindoll's Wisdom for the Way comes a new book of inspirational thoughts by John MacArthur. Long respected as one of today's most knowledgeable Bible teachers, John MacArthur has never had a book that offers his insights in such an easily accessible manner. Be prepared to be encouraged, challenged, energized, and changed as MacArthur offers seasoned wisdom on different passages of Scripture. Perfect for daily readings, this unique gift book is destined to be a treasured classic for years to come.
Product Details
Title: Truth for Today
Author: John MacArthur
Publisher: Thomas Nelson
Publication Date: 2001
Pages: 393
Reviews
What other people are saying about Truth for Today.