Among the Gospels and the Acts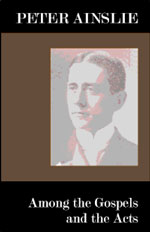 Temple Seminary Press
, 1908
Overview
In this work, Peter Ainslie provides an excellent Bible reading companion by breaking up the Gospels and Acts into manageable sections and providing commentary on each section. For each book, he offers a brief survey of its contents, authorship, date, and similar considerations. The divisions of the book are laid out, along with a unique system of marking and underlining the text so that key concepts stand out. He then proceeds through the book section by section, offering notes on historical and cultural background, application, and keen observations along the way. Each division concludes with a prayer and a number of questions for review purposes.
Among the Gospels and the Acts can serve as a guide to inductive Bible study, offering aid where it's needed most but never getting in the way of your own interaction with the biblical text.
Product Details
Title: Among the Gospels and the Acts
Author: Peter Ainslie
Publisher: Temple Seminary Press
Publication Date: 1908
Pages: 408
About Peter Ainslie
Peter Ainslie, a minister of the Christian Church (Disciples of Christ), pastored a large church in Baltimore, Maryland, for most of his life, but was better known for his labors on behalf of Christian unity. Ainslie's life spanned the period of the Restoration (or "Christian") Movement, out of which came the more open Disciples of Christ.
Alexander Campbell (1788–1866), an early leader of the Restoration Movement, had proposed a unity of all believers around what he saw as simple New Testament Christianity. Ainslie led the way in applying that idea in the modern ecumenical movement. He edited the Christian Union Quarterly for many years and was president of the Association for the Promotion of Christian Unity from 1910 to 1925. His many books arguing for cooperation among believers included The Message of the Disciples for the Union of the Church (1913). Said Ainslie, "Henceforth let no man glory in his denomination; that is sectarianism; but let men glory in Christ and practice brotherhood; that is Christianity."
Sample Pages from the Print Edition
Reviews
What other people are saying about Among the Gospels and the Acts.