Studies in the New Testament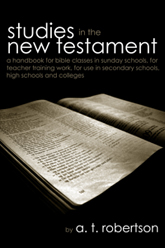 Sunday School Board of the Southern Baptist Convention
, 1915
Overview
The aim of A. T. Robertson's classic Studies in the New Testament is to make the New Testament more intelligible and more easily taught to others. The book is not meant for technical scholars or students in theological seminaries. Instead, Robertson writes to the average teacher in the Sunday school, the adult Bible class, boys and girls in the high schools, those in their first year or so in college, and preachers with little scholastic training. With its "Topics for Review" and "Questions for Review and Examination," it is adapted for use in Sunday school and Bible institutes and in all teacher-training work. There are no references to books of any kind outside of the Bible. The chapters are divided into numerous paragraphs, each paragraph dealing with a single idea.
Praise for the Print Edition
What a treasure he has left behind him for the coming generations of Christian teachers and preachers. What a debt the church will ever owe to him through the grace of God.
—Moody Monthly
Product Details
Title: Studies in the New Testament
Author: A. T. Robertson
Publisher: Sunday School Board, Southern Baptist Convention
Publication Date: 1915
Pages: 284
About A. T. Robertson
A. T. Robertson was a renowned scholar and a terrific preacher. He was a founding member of the Baptist World Congress, now known as the Baptist World Alliance. He participated, in 1914, in a summer series Bible conference with D.L. Moody and F.B. Meyer. Throughout his incredible life, he wrote 41 books ranging from grammars to simple character studies. He was the author of Word Pictures in the New Testament 6 Volumes
Sample Pages from the Print Edition
Reviews
What other people are saying about Studies in the New Testament.