Biblical Places Dataset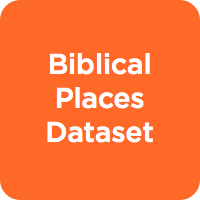 Everything we know about more than 1,200 biblical places
Our team has researched thousands of biblical places, cataloguing relevant scripture references, dictionary articles, original language lemmas, and more. When you search for a biblical place in the Factbook, Logos scours this database, gathering a short description, biblical events that occurred there, every time it is mentioned in the Bible, links to resources, and more. We've hand tagged thousands of maps, illustrations, and photographs with place names so you can understand how the location fits into biblical geography and history. Biblical places are associated with multiple names, so when you search for "Bethlehem" you'll find passages where it is referred to as "City of David," "Ephrathah," "Lehem," and more. Each biblical place is associated with other relevant Factbook pages—search for "Jerusalem" and find entries on "Jebusites," "People in Jerusalem," "Kingdom of Judah," and more. We've catalogued thousands of entries so you have access to the information you need in an instant.
The Biblical Places Dataset . . .
Identifies biblical references to over 1,200 biblical places
Curates content from across your Logos library
Includes maps, images, infographics, dictionary and encyclopedia articles, and more
Links to the information you need straight from your favorite Bible translation
Product Details
Title: Biblical Places Dataset
Editors: Sean Boisen and Elizabeth Licata
Biblical Places: 1,200
Publisher: Lexham Press
Publication Date: 2009
Resource Type: Datasets
Reviews
What other people are saying about Biblical Places Dataset.