The Speaker's Quote Book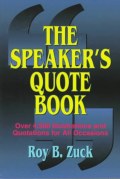 Overview
Everyone who speaks or preaches needs a ready supply of thought-provoking and illustrative resource material. The Speaker's Quote Book provides the attention-getting story or that "just right" quote that adds depth to any sermon or presentation.
Most people are familiar with Emerson's remark about the person who builds a better mousetrap. Pastors and speakers might be surprised to know that the full quote attributed to him states:
If a man can write a better book, preach a better sermon, or make a better mousetrap than his neighbor, though he builds his house in the woods, the world will make a beaten path to his door.
This and over 4,500 more quotes, stories, anecdotes, and illustrations from The Speaker's Quote Book will help the pastor prepare a better sermon or the speaker present a better speech. This new collection of both contemporary and classic material puts a wealth of interest-building illustrations at one's fingertips.
About Roy B. Zuck
Roy B. Zuck (1932–2013) was Senior Professor of Bible Exposition Emeritus at Dallas Theological Seminary and editor of Bibliotheca Sacra, the seminary's quarterly theological journal. A member of the faculty since 1973, Dr. Zuck served for a number of years as Academic Dean and Vice President for Academic Affairs at the seminary. Dr. Zuck has authored or coauthored numerous books, including The Bible Knowledge Commentary, Adult Education in the Church, The Bib Sac Reader, and Creation: Evidence from Scripture and Science.
Reviews
What other people are saying about The Speaker's Quote Book.