Ethical Dilemmas in Church Leadership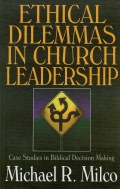 Overview
Infidelity, child abuse, AIDS, homosexuality, unexpected pregnancies--no church or church leader is immune from these difficult social problems. Ethical Dilemmas in Church Leadership presents case studies based on real-life situations and addresses the sensitive issues that pastors and church leaders deal with in any church.
Praise for the Print Edition
Michael has addressed the top critical, complex, and sensitive church leadership problems of our day. If you desire more precious time with our Lord, get this book and eliminate countless hours of debate.
—Raleigh B. Washington, The Rock of Our Salvation Church, Chicago
Pastor Milco provides the issues, a process for decision making, ethical guidelines, biblical warrant, approaches to solution, and conclusions for each issue...the real value of the book is its process for the resolution of ethical crises.
—James M. Grier, Vice President and Dean, Grand Rapids Baptist Seminary
Sample Page Scans: Table of Contents 1 | 2
Product Details
Title: Ethical Dilemmas in Church Leadership
Author: Michael R. Milco
Publisher: Kregel
Publication Date: 1997
Reviews
What other people are saying about Ethical Dilemmas in Church Leadership.