Brewer's Dictionary of Phrase and Fable (2 vols.)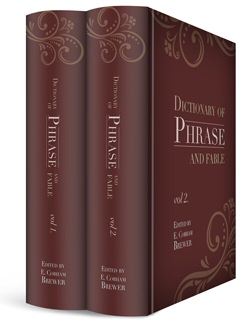 Cassell and Company
, 1895
Overview
Brewer's Dictionary of Phrase and Fable is a unique and useful reference work offering the definitions and explanations of many famous phrases, idioms, proverbs, allusions, and figures—literary, historical, and mythical alike. Many of the succinct definitions and explanations, marked with Brewer's famous wit and observations, don't appear in traditional dictionaries or encyclopedias. Brewer's Dictionary has the distinctive quality of being a comprehensive reference work that is also fun to read—the entries are informative and entertaining.
The Logos edition of Brewer's Dictionary of Phrase and Fable helps you reap the maximum benefits from these volumes. Completely searchable and easily accessible, Brewer's links Scripture passages directly to your preferred English translations and Greek and Hebrew texts, and subjects and events cross-reference the other dictionaries, encyclopedias, and resources in your digital library. You'll find Brewer's Dictionary of Phrase and Fable invaluable.
Key Features
Provides unique, useful references
Defines and explains the origins of many famous phrases, idioms, and proverbs
Explores literary, historical, and mythical allusions and persons
Praise for the Print Edition
Dr. Brewer's Dictionary of Phrase and Fable fills a decided gap in our instructive literature. It is really a most useful volume, with the rare attraction in a book of reference of being thoroughly readable.
—Daily Telegraph
Dr. Brewer's Dictionary of Phrase and Fable is extremely useful and judiciously compiled.
—Daily News
We have no hesitation in praising Dr. Brewer's Dictionary of Phrase and Fable as intrinsically good, and in recommending it as a most valuable accession to every library.
—The Standard
Dr. Brewer's Dictionary of Phrase and Fable is a most serviceable and trustworthy directory for fancy nomenclature, derived from the literary traditions and conversational habits of all Europe, in ancient and in modern times. A copious treasury of curious and useful information.
—Illustrated London News
Dr. Brewer's book of Phrase and Fable is an admirable dictionary of out-of-the-way references.
—The Queen
His work should find a place in every library, whether public or private.
—Literary World
Dr. Brewer's Dictionary of Phrase and Fable explains many thousands of allusions with wonderful accuracy, and that clearness of language and soundness of judgment which we have already noticed in his other popular books.
—Leeds Mercury
Dr. Brewer's Dictionary of Phrase and Fable is well calculated to afford much pleasant and profitable employment. It is a famous book for speakers and writers who are in want of pertinent illustrations.
—Manchester Examiner
Nobody possessing it need be at a loss for the derivation, source, or origin of common phrases, allusions, and 'words that have a tale to tell.' It is full of the most curious information on all kinds of subjects, and is just the sort of book to pick up when a man is too jaded to care for more systematic study. It is full of miscellaneous information, and would set up a clever talker for life at dinner and tea tables. He would pass for a singularly well-informed man, and what is better, would be one.
—Sheffield Independent
It contains a perfect mine of pertinent illustrations and happy allusions; it forms a rare collection of literary and etymological curiosities which, so far as we know, is of its kind quite unequalled; and it has the exceptional merit of being at once most useful as a work of reference and entertaining as a book to read.
—Nottingham Guardian
To the student this is a most useful book, and no library should be without a copy. The information given is most comprehensive, and is always succinctly presented.
—Edinburgh Daily Review
Individual Titles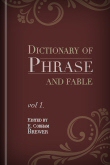 Volume one covers "A" through "Labourer is Worthy of his Hire."
Product Details
Title: Brewer's Dictionary of Phrase and Fable
Editor: Ebenezer Cobham Brewer
Publisher: Cassell & Company
Volumes: 2
Pages: 1,440
About Ebenezer Cobham Brewer
Ebenezer Cobham Brewer (1810–1897) obtained his BA in law in 1836, his LLB in 1839, and his LLD in 1844. He was ordained as a deacon in 1836 and then as a priest in 1838. He was also the author of A Guide to the Scientific Knowledge of Things Familiar, as well as A Dictionary of Miracles: Imitative, Realistic, and Dogmatic.
Reviews
What other people are saying about Brewer's Dictionary of Phrase and Fable (2 vols.).