Biblical Phrases Dataset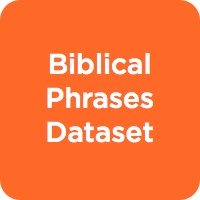 Every instance of thousands of biblical phrases
The Biblical Phrases Dataset enables you to search the Bible for phrases, not just single words. Our team has hand tagged more than 5,000 phrases so that you can quickly find exactly what you're looking for. When you search for a Greek, Hebrew, Aramaic, or English term in the Bible Word Study Guide, Logos scours this dataset, delivering statistically significant phrases containing your search term. Thanks to this massive database, you can even right click on phrases like "praise the Lord," "will of God," or thousands of others and find every instance of that exact phrase in Scripture. The information we've collected represents years of research that Logos has done for you. We've hand tagged and cross-referenced thousands of entries so you have access to the information you need in an instant.
The Biblical Phrases Dataset catalogues . . .
5,000 statistically significant Biblical phrases
Thousands of Bible verses containing common phrases
Product Details
Title: Biblical Phrases Dataset
Editors: Peter Venable, Elizabeth Licata, Guillermo Powell, Mark Keaton, David Witthoff, Charles Bauserman
Phrases: 5,000+
Publisher: Lexham Press
Publication Date: 2012
Resource Type: Datasets
Reviews
What other people are saying about Biblical Phrases Dataset.