Timeline Dataset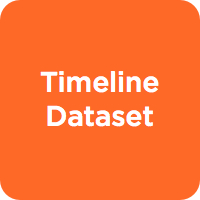 Link from your resources to more than 12,000 historical events
With the Timeline Dataset, you can explore thousands of years of history, search for specific events, jump from biblical events to their Factbook entries, and more. Our team has hand-tagged more than 12,000 events and linked them to references across your Logos library. When you activate the Timeline filter in the book you're reading, Logos scours this database, showing you events that link to the Timeline. You can even jump from the Timeline straight to resources in your Logos library. The information we've collected represents years of research that Logos has done for you, hand-tagging and cross-referencing thousands of entries to bring historical context to your Bible study.
The Timeline Dataset . . .
Connects over 12,000 events to the Timeline
Identifies references to historical events in thousands of resources
Associates biblical narratives with Factbook entries
Product Details
Title: Timeline Dataset
Editors: Annie O'Connor and Nicole Wright
Events: 12,000
Publisher: Lexham Press
Publication Date: 2012
Resource Type: Datasets
Reviews
What other people are saying about Timeline Dataset.