Contemporary Theology Collection (6 vols.)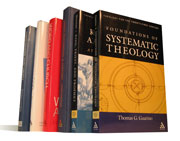 Overview
The Contemporary Theology Collection brings the eternal truth of God to bear upon the contemporary considerations of the modern intellectual condition. In six volumes, the collection examines the ontology of God, the Trinitarian nature of atonement, forgiveness and truth in the modern world, and much more. Each volume is marked by rigorous academic inquiry and timely appraisal of the issues, taking seriously the affect past philosophical, psychological, and historical investigations have made on the pursuit of theology in the 21st century.
Product Details
Title: Contemporary Theology Collection
Publisher: T & T Clark International
Volumes: 6
Pages: 1,664
Reviews
What other people are saying about Contemporary Theology Collection (6 vols.).