The Metropolitan Tabernacle Pulpit Sermons, vol. 13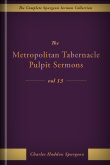 Passmore & Alabaster
, 1867
Overview
This is the most complete collection of Charles Spurgeon's Sermons available in print or electronically. In this collection there are over 3,550 sermons from one of the most gifted speakers and blessed Christian leaders of our era.
This collection is an invaluable tool in both sermon preparation and understanding. Additionally, The Complete Spurgeon Sermon Collection can also serve as a full Bible commentary as there are sermons and expositions from Genesis 1:1 to Revelation 22:21.
Volume seven contains sermons 728–787.
Product Details
Author: Charles Spurgeon
Publisher: Passmore & Alabaster
Publication Date: 1867
Reviews
What other people are saying about The Metropolitan Tabernacle Pulpit Sermons, vol. 13.