Defined by God 2012 Conference Videos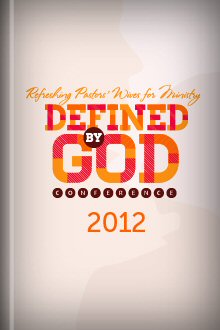 Overview
The Defined by God conference brought together speakers from around the world to speak truth into the lives of pastor's wives. Now you'll be able to purchase all seven sessions to watch whenever you'd like.
Throughout the more than eight hours of footage from Defined by God 2012, you'll walk through the struggles of being a pastor's wife, and be refreshed and encouraged. You'll be equipped and empowered for better service.
Not only will you receive video footage from the Defined by God 2012 sessions, but you will also receive the transcribed text from each session. This means all of the content from Defined by God 2012 will now be searchable in your Logos library. You'll be able to highlight, take notes, and share key points with your sisters in Christ.
Key Features
Search video content from within your Logos library
Take notes and make highlights in the transcribed text from each session
Learn from speakers who teach in depth on praying for your husband, refining your romance, battling isolation, and more
Further your study with the Suggested Readings list that accompanies each lecture
Speakers
"Community—Battling Isolation" by Lori Wilhite
"Steadfast Love" by Lisa Chan
"Refining Your Romance" by Jani Ortlund
"The Faithful One" by Amy Groeschel
"Picture Perfect" by Naomi Chong
"Praying for Your Husband and the Church" by Lauren Chandler
"Beauty for Ashes" by Kimberly Scott
Product Details
Title: Defined by God 2012 Conference Videos
Conference date: November 1–3, 2012
Format: Download
Reviews
What other people are saying about Defined by God 2012 Conference Videos.