The Anglican Tradition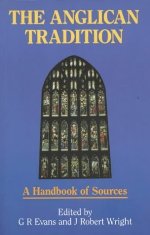 Overview
The Anglican Tradition is a unique collection of the fundamental documents and texts from every period of Anglican history and almost every province of the worldwide Anglican communion. It is, as close as it is possible to achieve in one volume, a record of the cumulative common mind of Anglicanism.
The book paints a broad portrait of Anglican faith, doctrine and practice. Since it includes documents from c.96 up to 1989, The Anglican Tradition provides insight into the Anglican tradition as it developed throughout history. Moreover, the writings are shared by both the Eastern and Western churches, stressing the historical continuity of the Anglican Church today with the church historically over time, even back to the earliest post-canonical writings.
The Anglican Tradition presents an array of material of particular significance for those directly involved with church scholarship or ministry. However, anyone interested in the progression of the Church through history will find this collection of abundant interest.
Product Details
Title: The Anglican Tradition: A Handbook of Sources
Editors: G.R. Evans and J. Robert Wright
Publisher: SPCK Publishing
Publication Date: 1991
Pages: 620
About the Editors
G.R. Evans is Professor of Medieval Theology and Intellectual History in the University of Cambridge. She is the author of numerous, critically-acclaimed books and articles in the fields of patristic, medieval and Reformation history and theology. These titles include Augustine on Evil, Problems of Authority in the Reformation Debates, The Church and the Churches, Philosophy and Theology in the Middle Ages, Law and Theology in the Middle Ages, and Anselm.
J. Robert Wright is an Episcopal priest and professor of Ecclesiastical History. He is widely-recognized as an authority on Anglican and Episcopal history and doctrine. Currently he is the St Mark's in the Bowery Professor of Ecclesiastical History at General Theological Seminary, and the historiographer of the Episcopal Church in the United States of America. He is also the chaplain, in perpetuity, of the Guild of Scholars of the Episcopal Church and the President of the Anglican Society.
Reviews
What other people are saying about The Anglican Tradition.