Studies in Martyn Lloyd-Jones Collection (2 vols.)
Overview
The Studies in Martyn Lloyd-Jones Collection presents a clear-eyed and penetrating look at this monumental figure in evangelical Christianity. These two volumes offer thorough biographies of Lloyd-Jones's life, and critical assessments of his 53-year preaching career and legacy.
Martyn Lloyd-Jones was arguably the most important and influential British evangelical preacher in the 20th Century. His influence extended to nearly all who came after him, including C. S. Lewis. There is much Christians today can learn by examining the life and preaching of Lloyd-Jones, and the Studies in Martyn Lloyd-Jones Collection is a terrific place to begin.
Be sure to check out the Selected Works of Martyn Lloyd-Jones, also available from Logos.
If you experience problems accessing Martyn Lloyd-Jones (1899-1981) and 20th Century Evangelicalism please download the file below called MARTYNLLOYD.lbxlls. Save the file to C:Program FilesLibronix DLSResources and, if given the option, overwrite the file that is currently there.
Individual Titles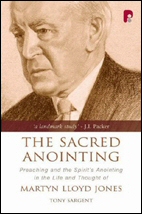 The Sacred Anointing: Preaching and the Spirit's Anointing in the Life and Thought of Martyn Lloyd-Jones
Author: Tony Sargent
Publisher: Paternoster
Publication Date: 2006
Pages: 296
Dr. Martyn Lloyd-Jones is among the finest preachers of the twentieth century. In The Sacred Anointing, Tony Sargent explores the man, the methods and the motives behind this master preacher. He also considers the central place which divine "unction" played in Lloyd-Jones' life and the prophetic quality of his ministry.
There are good preachers and there are great preachers. The Sacred Anointing presents the place of preaching and the Spirit's anointing in the life and thought of one of the finest preachers in modern times, Martyn Lloyd-Jones.
Anyone who ever felt the power of God in a Lloyd-Jones sermon, in the flesh, on tape or in print, will find this book fascinating and enriching. Preachers will gain from these pages a searching health check, and perhaps a needed course correction. Sargent's book is a landmark study.
—J. I. Packer, Professor of Systematic and Historical Theology, Regent College, Vancouver
I unreservedly and wholeheartedly recommend this book. Tony Sargent has served us magnificently.
—Terry Virgo, New Frontiers
The book creates in preachers a hunger to position themselves to catch the wind of the Spirit in the preparation and delivery of sermons. Pertinent hermeneutical and homiletical wisdom drawn from this great preacher of a recent age is woven throughout the book. Preachers who desire "to preach not only in word, but also in power and in the Holy Spirit and with full conviction" (1 Thess 1:5) should invest prayerful time in this book.
—Bibliotheca Sacra
Tony Sargent is the Principal of International Christian College in Glasgow.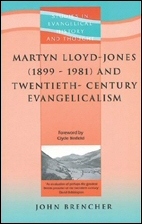 Martyn Lloyd-Jones (1899-1981) and 20th Century Evangelicalism
Author: John Brencher
Publisher: Paternoster
Publication Date: 2003
Pages: 267
Martyn Lloyd-Jones (1899-1981) and 20th Century Evangelicalism is a rigorously researched, thematic study of Martyn Lloyd-Jones. John Brencher considers the significance of Lloyd-Jones' life for post-war British evangelicalism, critically examining the many events, persons and issues surrounding one of the leading and most controversial preachers in modern Protestantism. He studies Lloyd-Jones's background and upbringing, his love of his Welsh heritage, and explores how these influenced his ministry. His preaching at Westminster Chapel figures prominently, as does his understanding of the nature of the church. Also examined is the way that his Reformed evangelicalism led him in a separatist and anti-ecumenical direction. The book closes with an evaluation of Lloyd-Jones's leadership and the extent of his influence.
The book, in other words, should be read by anyone who takes seriously the important work of unusually blessed preachers, but who also wants to move beyond either simple praise or blame in assessing the long-term impact of such ministry.
—Christianity Today
An evaluation of perhaps the greatest British preacher of the twentieth century. [Brencher] analyzes the distinctive ecclesiology, the widespread influence and (very illuminatingly) the Welshness of this outstanding Reformed Evangelical.
—David Bebbington
Dr. Brencher's admirably researched study – sometimes sympathetic, sometimes trenchant, but always fare-minded – provides us with a much-needed scholarly assessment of one of the last century's most inspirational evangelical preachers.
—Richard Carwardine, University of Sheffield
John Brencher studied art and history at the universities of Leicester, York and Sheffield, and for ministry, at London Bible College. He served Bethel Church, Liverpool as pastor and was President of the FIEC. Now retired in York, he continues to lecture and write in history.
Product Details
Title: Studies in Martyn Lloyd-Jones Collection (2 vols.)
Publisher: Paternoster
Volumes: 2
Pages: 563
About Martyn Lloyd-Jones
Martyn Lloyd-Jones (1899-1981) is recognized as one of the last century's most gifted preachers and writers. He served as minister of Westminster Chapel in London for 25 years and preached extensively throughout the United States and Europe. Through his devotional writings, commentaries and other books, Lloyd-Jones has had a profound influence upon the Christian church and the lives of many thousands worldwide.
Reviews
What other people are saying about Studies in Martyn Lloyd-Jones Collection (2 vols.).