Everyday Access: Your Bible Concordance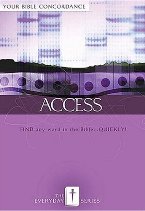 Overview
Can You Find What You're Looking for in the Bible?
Sometimes, you just need to ask for directions. Look inside Everyday Access and you'll find your destination. Look up the words and topics you want to read and study-quickly and easily.
The everyday source for:
Word studies-all the uses of a particular word. For example: study the three unique verses including the word "encouragement"
Geographic studies-all the references to a particular location. For example: follow the story of Bethlehem from Genesis through John.
Character studies-all the verses including a particular name. For example: see every reference to Peter
Keyed specifically to the New Century Version®. Flexible enough to work with any translation.
Everyday Access. Because Faith Grows Day by Day.
Key Features
Helps you find biblical references … quickly!
Provides a complete concordance for the New Century Version
Product Details
Title: Everyday Access: Your Bible Concordance
Editors: Thomas Nelson Publishers
Publisher: Thomas Nelson Publishers
Publication Date: 2006
Reviews
What other people are saying about Everyday Access: Your Bible Concordance.