The Life of William Cowper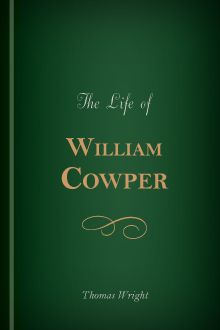 The Life of William Cowper deals exhaustively with the poet's life, compiling not only the various discoveries of previous biographies but also a large number of previously unavailable facts. Wright had access to the whole of Cowper's correspondence and was able to read it in chronological order, which no previous biographer was able to do. The biography begins with Cowper's birth in 1731, traces his early education, gives an account of the three years Cowper "misspent" working in an attorney's office, and continues through all of Cowper's travels. Cowper's struggle with depression is explored in depth, as is his relationship with John Newton and with his "adopted" family, the Unwins.
About William Cowper
William Cowper (1731–1800) was born in Berkhamsted, Hertfordshire, England. Studying for a career in law, he was offered a clerkship of journals in the House of Lords in 1763. Before he could take his final exams, he suffered a mental breakdown and spent time in an asylum to recover from several suicide attempts. It was after his recovery that he moved in with the Unwin family—a retired clergyman and his wife. Through this family he would meet John Newton, and the two of them would collaborate on the Olney Hymns. Cowper continued to battle depression, but he also continued to write and publish poems; he was a prolific letter writer. In 1786, Cowper began translating Homer's Iliad and Odyssey into blank verse. They were published to great acclaim in 1791. Over the next years, he would take on other translation projects, including works of Greek and Italian poetry. In 1800, Cowper was suddenly hit with edema and passed away. He was buried in the chapel of St. Thomas of Canterbury, St. Nicholas Church, East Dereham.
Reviews
What other people are saying about The Life of William Cowper.