The Faith of a Modern Christian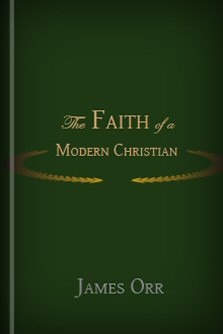 Hodder and Stoughton
, 1910
Overview
The Faith of the Modern Christian contains 12 spirit-filled essays covering topics such as the inspiration of the Bible, the Gospels and modern criticism, miracles, the incarnation of Christ, the teachings of Jesus, the resurrection, Protestantism and Roman Catholicism, Christianity and modern science, and much more. Packed with spiritual insight and practical application, it will inspire and challenge those seeking to deepen their understanding of the Christian faith.
Product Details
Title: The Faith of the Modern Christian
Author: James Orr
Publisher: Hodder and Stoughton
Pages: 240
About James Orr
James Orr (1844–1913) was minister of the East Bank United Presbyterian Church in Hawick, Scotland, from 1874–1891, and professor of church history in the Theological College of the United Presbyterian Church of Scotland from 1874–1901. From 1901, he was professor of apologetics and theology at Glasgow College of the United Free Church. He was among the chief promoters for the union between the Free and United Presbyterian Churches in Scotland. He lectured at seminaries all over the world and was a prolific writer and editor.
Orr served as the editor for the International Standard Bible Encyclopedia, 1915 Edition, contributed four volumes to the The Pulpit Commentary, and is featured in The Fundamentals (4 vols.).
Reviews
What other people are saying about The Faith of a Modern Christian.