The Resurrection of Jesus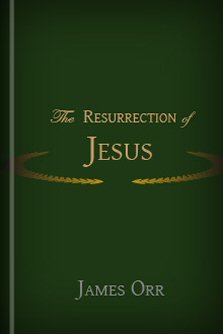 Hodder and Stoughton
, 1908
Overview
"The resurrection of Jesus stands fast as a fact, unaffected by the boastful waves of skepticism that ceaselessly through the ages beat themselves against it, retains its significance as a corner stone in the edifice of human redemption, and holds within it the vastest hope for time and for eternity that humanity can ever know." The Resurrection of Jesus anthologizes 10 of James Orr's best essays on Christ's resurrection that originally appeared in The Expositor. Scholarly, apologetic, devotional, practical—this volume is packed with spiritual insight and application. The following essays are included:
The Present State of the Question
Its Nature as Miracle
The Gospel Narratives and Critical Solvents
The Credibility of the Witness—The Burial
Credibility Continued—"The Easter Message"
Credibility Continued—The Post-Resurrection Appearances
The Significance of the Appearances—The Risen Body
The Apostolic Church—Visional and Apparational Theories
Neo-Babylonian Theories—Jewish and Apocryphal Ideas
Doctrinal Bearings of the Resurrection
Praise for the Print Edition
Professor Orr, of Glasgow, is, in our judgment, the most successful apologetic writer of the present day . . . His new book is a learned, unhesitating apologetic, the only book that it is of any use to write, if we are to have apologetics at all. He has chosen his subject with unerring judgment. The Resurrection is the citadel. It is less violently attacked now than formerly, but it is still the chief object of attack.
—Expository Times
The writer has long been known as a great biblical scholar. His works along this line are in most of our minister's libraries, and regarded as safe guides in theological thought. We have in this volume a most valuable contribution to the fundamental doctrine of Christianity. We do not know of a better book to put into the hands of our young men and women than this volume. It is exhaustive without being tiring, deep yet clear, forcible in argument and in every respect calculated to instruct concerning this great doctrine.
—Northern Advocate
Product Details
Title: The Resurrection of Jesus
Author: James Orr
Publisher: Hodder and Stoughton
Publication Date: 1912
Pages: 292
About James Orr
James Orr (1844–1913) was minister of the East Bank United Presbyterian Church in Hawick, Scotland, from 1874–1891, and professor of church history in the Theological College of the United Presbyterian Church of Scotland from 1874–1901. From 1901, he was professor of apologetics and theology at Glasgow College of the United Free Church. He was among the chief promoters for the union between the Free and United Presbyterian Churches in Scotland. He lectured at seminaries all over the world and was a prolific writer and editor.
Orr served as the editor for the International Standard Bible Encyclopedia, 1915 Edition, contributed four volumes to the The Pulpit Commentary, and is featured in The Fundamentals (4 vols.).
Reviews
What other people are saying about The Resurrection of Jesus.