Journal of Theological Interpretation, vol. 2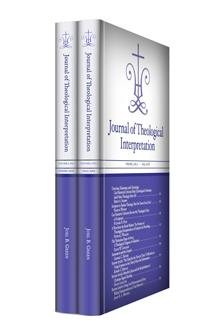 Overview
Critical biblical scholarship as developed and defined since the mid-eighteenth century has played a significant and welcome role in pressing us to take biblical texts seriously on their own terms and diverse contexts. With the postmodern turn, additional questions have surfaced—including the theological and ecclesial location of biblical interpretation, the significance of canon and creed for biblical hermeneutics, the historical reception of biblical texts, and other more pointedly theological interests. How might we engage interpretively with the Christian Scriptures so as to hear and attend to God's voice? The Journal of Theological Interpretation aims to serve these agendas.
The Logos edition of these theological journals speeds up your research and sermon preparation. Search across volumes of recent scholarship in theological interpretation studies. Find every article that mentions the topic or Scripture passage you're preaching on or researching. Trace the development of key theological themes by accessing the latest scholarship—like never before.
Key Features
Theological exegesis of selected biblical texts
Theological method and the role of Scripture in theology and ethics
History of reception or history of interpretation of biblical texts
Review essays interacting with key books—contemporary and classical
Hermeneutical challenges in theological exegesis
Individual Titles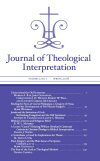 Journal of Theological Interpretation: Volume 2, Number 1 (Spring 2008)
Contents:
"Christ in/and the Old Testament," by Murray A. Rae, John Goldingay, Christopher J. H. Wright, Robert W. Wall, and Kathyryn Greene-McCreight
"Finding the Form of God in Philippians 2: Gregory of Nyssa and the Development of Pro-Nicene Exegesis," by Mark Weedman
"Jonah and the Imitation of God: Rethinking Evangelism and the Old Testament," by Stephen B. Chapman and Laceye C. Warner
"Biblical Criticism and Religious Belief," by R.W.L. Moberly
"A Looser 'Canon'? Relating William Abraham's Canon and Criterion in Christian Theology to Biblical Interpretation 101," by Daniel J. Treier
"2 Corinthians 3:18 and Its Implications for Theosis," by M. David Litwa
"Paul, Allegory, and the Plain Sense of Scripture: Galatians 4:21–31," by Mark Gignilliat
"The Fear of the Lord as Theological Method," by Daniel Castelo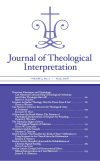 Journal of Theological Interpretation: Volume 2, Number 2 (Fall 2008)
Contents:
"Docetism, Käsemann, and Christology: Can Historical Criticism Help Christological Orthodoxy (and Other Theology) After All?," by Brent A. Strawn
"Scripture in Pauline Theology: How Far Down Does It Go?," by Francis Watson
"Can Narrative Criticism Recover the Theological Unity of Scripture?," by Richard B. Hays
"A View from the Retail Market: The Promise of Theological Interpretation of Scripture for Preaching," by Patrick J. Willson
"The Trinitarian Shape of πίστις: A Theological Exegesis of Galatians," by David W. Congdon
"Atonement and the Gospels," by George C. Heider
"Review Article: 'Too Hard for the Teeth of Time': Difficulties in Using Scripture in the Church Since the Reformation," by Robert E. Meditz
"Review Article: Benedict's Jesus and the Rehabilitation of Christian Figural Reading," by David Lincicum
"Review Article: Giving God Hermeneutical Glory: Biblical Interpretation as if God Mattered," by James R.A. Merrick
About Joel B. Green
Joel B. Green is an associate dean for the Center for Advanced Technological Studies and professor of New Testament Interpretation at Fuller Theological Seminary. He has written or edited numerous books related to New Testament studies and theology.
Reviews
What other people are saying about Journal of Theological Interpretation, vol. 2.