Journal of Theological Interpretation, vol. 3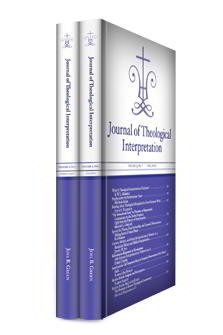 Overview
Critical biblical scholarship as developed and defined since the mid-eighteenth century has played a significant and welcome role in pressing us to take biblical texts seriously on their own terms and diverse contexts. With the postmodern turn, additional questions have surfaced—including the theological and ecclesial location of biblical interpretation, the significance of canon and creed for biblical hermeneutics, the historical reception of biblical texts, and other more pointedly theological interests. How might we engage interpretively with the Christian Scriptures so as to hear and attend to God's voice? The Journal of Theological Interpretation aims to serve these agendas.
The Logos edition of these theological journals speeds up your research and sermon preparation. Search across volumes of recent scholarship in theological interpretation studies. Find every article that mentions the topic or Scripture passage you're preaching on or researching. Trace the development of key theological themes by accessing the latest scholarship—like never before.
Key Features
Theological exegesis of selected biblical texts
Theological method and the role of Scripture in theology and ethics
History of reception or history of interpretation of biblical texts
Review essays interacting with key books—contemporary and classical
Hermeneutical challenges in theological exegesis
Individual Titles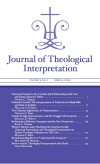 Journal of Theological Interpretation: Volume 3, Number 1 (Spring 2009)
Contents:
"Character Formed in the Crucible: Job's Relationship with God and Joban Character Ethics," by Daniel C. Timmer
"Edwards' Ezekiel: The Interpretation of Ezekiel in the Blank Bible and Notes on Scripture," by William A. Tooman
"The Christian Significance of Deuteronomy 7," by Douglas S. Earl
"Charles Hodge, Hermeneutics, and the Struggle with Scripture," by Michael D. White
"Reformation Redivivus: Synergism and the New Perspective," by Kent L. Yinger
"What if Martin Luther Had Read the Dead Sea Scrolls? Historical Particularity and Theological Interpretation in Pauline Theology: Galatians as a Test Case," by Michael F. Bird
"Reunderstanding How to 'Understand the Scripture,'" by Matthew M. Bridges
"Review Article: Theological Interpretation after Barth," by Hans Madueme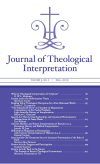 Journal of Theological Interpretation: Volume 3, Number 2 (Fall 2009)
Contents:
"What Is Theological Interpretation of Scripture?," by R.W.L. Moberly
"Exodus 3 after the Hellenization Thesis," by Michael Allen
"Reading Job as Theological Disruption for a Post-Holocaust World," by David C. Tollerton
"'The Sennacherib Error' in Theodore of Mopsuestia's Commentary on the Twelve Prophets: Light from the History of Interpretation," by Bradley C. Gregory
"Speech Act Theory, Dual Authorship, and Canonical Hermeneutics: Making Sense of Sensus Plenior," by Kit Barker
"Ancient, Modern, and Future Interpretations of Romans 1:3–4: Reception History and Biblical Interpretation," by Joshua W. Jipp
"Reformation Responses to Novatianism: 16th-Century Interpretations of Hebrews 6:4–6," by Derek Cooper
"Israel and the Old Testament Story in Irenaeus' Presentation of the Rule of Faith," by Nathan MacDonald
"Review Article: Exegesis and Participation," by Darren Sarisky
"Review Article: Back to the Future: The Promise of Recent Theological Commentary," by Michael Pasquarello III
About Joel B. Green
Joel B. Green is an associate dean for the Center for Advanced Technological Studies and professor of New Testament Interpretation at Fuller Theological Seminary. He has written or edited numerous books related to New Testament studies and theology.
Reviews
What other people are saying about Journal of Theological Interpretation, vol. 3.