Journal of Theological Interpretation, vol. 5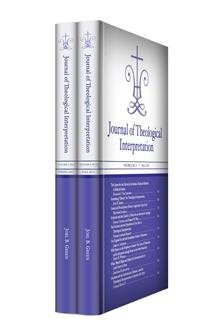 Overview
Critical biblical scholarship as developed and defined since the mid-eighteenth century has played a significant and welcome role in pressing us to take biblical texts seriously on their own terms and diverse contexts. With the postmodern turn, additional questions have surfaced—including the theological and ecclesial location of biblical interpretation, the significance of canon and creed for biblical hermeneutics, the historical reception of biblical texts, and other more pointedly theological interests. How might we engage interpretively with the Christian Scriptures so as to hear and attend to God's voice? The Journal of Theological Interpretation aims to serve these agendas.
The Logos edition of these theological journals speeds up your research and sermon preparation. Search across volumes of recent scholarship in theological interpretation studies. Find every article that mentions the topic or Scripture passage you're preaching on or researching. Trace the development of key theological themes by accessing the latest scholarship—like never before.
Key Features
Theological exegesis of selected biblical texts
Theological method and the role of Scripture in theology and ethics
History of reception or history of interpretation of biblical texts
Review essays interacting with key books—contemporary and classical
Hermeneutical challenges in theological exegesis
Individual Titles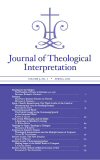 Journal of Theological Interpretation: Volume 5, Number 1 (Spring 2011)
Contents:
"Reading for the Subject: The Paradox of Power in Romans 14:1–15:6," by Beverly Roberts Gaventa
"Romans: The First Christian Treatise on Theosis," by Michael J. Gorman
"Spirit, Church, Resurrection: The Third Article of the Creed as Hermeneutical Lens for Reading Romans," by Richard B. Hays
"The Inscripturated Word: The Fourth Gospel as the Continuing Speech of the Incarnate Word," by Keith A. Quan
"God, Greek Philosophy, and the Bible: A Response to Matthew Levering," by C. Kavin Rowe
"Typology of Types: Typology in Dialogue," by Benjamin J. Ribbens
"Scripture as Semiotic System: Theological Interpretation and the Multiple Senses of Scripture," by Colin M. Toffelmire
"Review Article: The New Irenaeus," by John J. O'Keefe
"Review Article: Christianizing Joshua: Making Sense of the Bible's Book of Conquest," by L. Daniel Hawk
"Review Article: Toward a Biblical Account of Sin?," by Raymond C. Van Leeuwen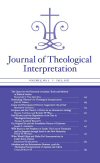 Journal of Theological Interpretation: Volume 5, Number 2 (Fall 2011)
Contents:
"The Quest for the Historical Leviathan: Truth and Method in Biblical Studies," by Raymond C. Van Leeuwen
"Rethinking 'History' for Theological Interpretation," by Joel B. Green
"Linear and Participatory History: Augustine's City of God," by Matthew Levering
"Scripture and the Church: A Précis for an Alternative Analogy," by Daniel Castelo and Robert W. Wall
"Paul Ricoeur and the Hypothesis of the Text in Theological Interpretation," by Thomas Andrew Bennett
"On Original Sin and the Scandalous Nature of Existence," by James A. Andrews
"Wild Beasts in the Prophecy of Isaiah: The Loss of Dominion and Its Renewal through Israel as the New Humanity," by David H. Wenkel
"What Would Elijah and Elisha Do? Internarrativity in Luke's Story of Jesus," by Jonathan Huddleston
"Abraham and the Reformation: Romans 4 and the Theological Interpretation of Aquinas and Calvin," by Charles Raith II
About Joel B. Green
Joel B. Green is an associate dean for the Center for Advanced Technological Studies and Professor of New Testament Interpretation at Fuller Theological Seminary. He has written or edited numerous books related to New Testament studies and theology.
Reviews
What other people are saying about Journal of Theological Interpretation, vol. 5.