Journal of Theological Interpretation, vol. 6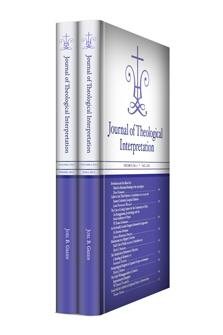 Overview
Critical biblical scholarship as developed and defined since the mid-eighteenth century has played a significant and welcome role in pressing us to take biblical texts seriously on their own terms and diverse contexts. With the postmodern turn, additional questions have surfaced—including the theological and ecclesial location of biblical interpretation, the significance of canon and creed for biblical hermeneutics, the historical reception of biblical texts, and other more pointedly theological interests. How might we engage interpretively with the Christian Scriptures so as to hear and attend to God's voice? The Journal of Theological Interpretation aims to serve these agendas.
The Logos edition of these theological journals speeds up your research and sermon preparation. Search across volumes of recent scholarship in theological interpretation studies. Find every article that mentions the topic or Scripture passage you're preaching on or researching. Trace the development of key theological themes by accessing the latest scholarship—like never before.
Key Features
Theological exegesis of selected biblical texts
Theological method and the role of Scripture in theology and ethics
History of reception or history of interpretation of biblical texts
Review essays interacting with key books—contemporary and classical
Hermeneutical challenges in theological exegesis
Individual Titles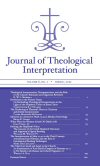 Journal of Theological Interpretation: Volume 6, Number 1 (Spring 2012)
Contents:
"Theological Interpretation, Presuppositions, and the Role of the Church: Bultmann and Augustine Revisited," by R.W.L. Moberly
"Revelation in the Present Tense: On Rethinking Theological Interpretation in the Light of the Prophetic Office of Jesus Christ," by Christopher R.J. Holmes
"The Hardening of Pharaoh's Heart in Christian and Jewish Interpretation," by Claire Mathews McGinnis
"Salvation in a Sentence: Mark 15:39 as Markan Soteriology," by Brian K. Gamel
"What Were the Women Afraid Of? (Mark 16:8)," by John Topel
"Hearing the Shepherd's Voice: The παροιμία of the Good Shepherd Discourse and Augustine's Figural Reading," by William M. Wright IV
"The Interpretation of John 10:30 in the Third Century: Antimonarchian Polemics and the Rise of Grammatical Reading Techniques," by Mark DelCogliano
"The Church as Israel and Israel as the Church: An Examination of Karl Barth's Exegesis of Romans 9:1–5 in The Epistle to the Romans and Church Dogmatics 2/2," by Wesley A. Hill
Erratum Notice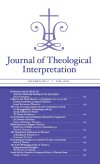 Journal of Theological Interpretation: Volume 6, Number 2 (Fall 2012)
Contents:
"Revelation and the Missio Dei: Toward a Missional Reading of the Apocalypse," by Dean Flemming
"Called to the Third Heaven: 2 Corinthians 11:21–12:9 in the Eastern Orthodox Liturgical Tradition," by James Buchanan Wallace
"The Cost of Losing Lament for the Community of Faith: On Brueggemann, Ecclesiology, and the Social Audience of Prayer," by W. Derek Suderman
"An Ecclesially Located Exegesis Informed by Augustine's De Doctrina Christiana," by Joshua Marshall Strahan
"Meditations on a Slippery Citation: Paul's Use of Psalm 112:9 in 2 Corinthians 9:9," by David I. Starling
"The Nondivisive Difference of Election: A Reading of Romans 9–11," by Susannah Ticciati
"Prosopological Exegesis in Cyprian's De opere et eleemosynis," by David J. Downs
"The Early Wirkungsgeschichte of Daniel 3: Representative Examples," by W. Dennis Tucker Jr.
"Good Soil for Growth in Scriptural Ethics: A Review Essay," by Tommy Givens
About Joel B. Green
Joel B. Green is an associate dean for the Center for Advanced Technological Studies and Professor of New Testament Interpretation at Fuller Theological Seminary. He has written or edited numerous books related to New Testament studies and theology.
Reviews
What other people are saying about Journal of Theological Interpretation, vol. 6.