New Nave's Topical Bible 2.0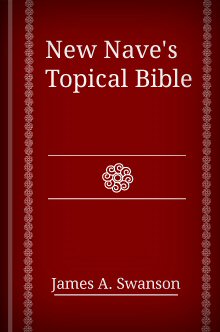 Overview
The best known and most comprehensive topical Bible, containing over 20,000 topics and sub-topics with over 100,000 scripture references. Logos' New Nave's includes 260 new articles and more than 1,300 new topics. Logos New Nave's also features more than 1,500 modernizations of archaic English terms. Combined with Logos Bible software, Nave's becomes more useful than ever. With Logos Bible Software you can even use the Nave's topic as a search parameter. For example, search for the word "love" within the verses associated with the Nave's topic "marriage." Copy search results to topic lists and your word processor. Billy Graham says of the Nave's Topical Bible - "Outside of the Bible this is the book that I depend on more than any other. Certainly there has been no book that has helped me more in my study." Revised and expanded.
Product Details
Title: New Nave's Topical Bible 2.0
Author: James Swanson
Publisher: Logos Research Systems
Publication Date: 1994
Reviews
What other people are saying about New Nave's Topical Bible 2.0.