Come and See: Acts and Letters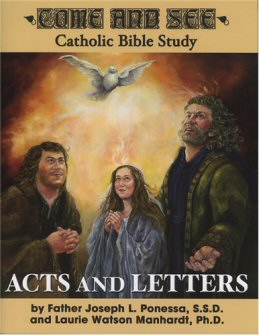 Overview
How do the Letters of Saint Paul connect to the history of the Acts of the Apostles? What was the structure and governance of the ancient apostolic church? How should the Catholic Church interpret the difficult passages in Paul's writing? Find the answers to these and many other questions in the pages of Acts and Letters in the popular Come and See: Catholic Bible Study Series. This study uses modern study tools—inductive and deductive learning, the Catechism of the Catholic Church, and the writings of popes and saints—to unlock an ancient treasure and show its current application.
The Logos edition brings you more. With references to the Bible and Catechism appearing on mouseover, you can easily read source material to engage further with the subject matter. All cross-references are tagged to other resources in your library, you can easily connect with citations to the saints, popes, and doctors of the church. Enrich your Bible study and broaden your knowledge of Scripture as you explore these commentaries like never before through Logos.
Key Features
Scriptural teaching applied to life situations
Rich teachings from the saints and church fathers
Engaging questions and discussion points for deeper Bible study
Contents
Birth of the Church (AD 29): Acts 1–2
Peter and John (AD 30): Acts 3–5
The Diaconal Order (AD 31): Acts 6–7
Philip the Deacon (AD 33): Acts 8
The Conversion of Saul (AD 35): Acts 9
Peter and James (AD 43): Acts 10–12
Paul and Barnabas (AD 47): Acts 13–14
The Apostles in Council (AD 49): Acts 15
Paul and Silas (AD 50): Acts 15:36–16:40
Philippians (AD 50): Philippians 1–4
Thessalonians (AD 50): Acts 17, 1 & 2 Thessalonians
The Word to Corinth (AD 51): Acts 18, 1 Corinthians 1–8
The Apostolic Liturgy (AD 52): 1 Corinthians 9–16
Ephesians (AD 54–57): Acts 19, Ephesians
Return to Corinth (AD 57): 2 Corinthians
God's Righteousness: Romans 1–4
Response to Grace: Romans 5–8
God's Universal Plan: Romans 9–16
Galatians: Galatians 1–6
Appeal to Caesar (AD 60): Acts 20–26
Letters from Prison: Colossians 1–4, Philemon
To Rome and Beyond (AD 61): Acts 27–28
About the Authors
Laurie W. Manhardt holds a BA in psychology from the University of Detroit and a PhD in education from the University of Michigan. She led an interfaith Bible study for 10 years, which convinced her of the need for quality Catholic Bible study resources. The Come and See: Catholic Bible Study Series is the result.
Joseph Ponessa was ordained in 1974 for his home diocese of Great Falls-Billings, Montana, where he serves as pastor. Mount Angel Seminary in St Benedict, Oregon, awarded him an MA in theology, and the Pontifical Biblical Institute (Biblicum) in Rome has conferred the doctorate in Sacred Scripture. Ponessa speaks American English, Italian, Spanish, and French, and he reads Middle English, Latin, Hebrew, Greek, German, Arabic, and Biblical Aramaic.
Reviews
What other people are saying about Come and See: Acts and Letters.