Come and See: Prophets and Apostles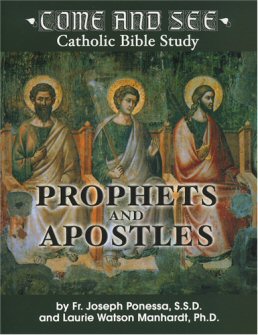 Overview
Ever wonder what it would be like to encounter an Old Testament prophet? Or to hear one of the apostles preach a sermon? Father Joseph Ponessa and Laurie Watson Manhardt help bring the Word of God as preached by the prophets and apostles home to the modern Christian. Each chapter gives historical background to these books of the Bible to help set the works in historical context. Questions with each chapter encourage us to let the Scriptures lead us to repentance and conversion.
Come and See: Prophets and Apostles will help you hear the Word of God as spoken by Daniel, Nehemiah, Joel, Habbakuk, Micah, the apostle James, and other lesser-known biblical figures—bringing their teachings home to the modern-day Christian.
The Logos edition brings you more. With references to the Bible and Catechism appearing on mouseover, you can easily read source material to engage further with the subject matter. All cross-references are tagged to other resources in your library, you can easily connect with citations to the saints, popes, and doctors of the church. Enrich your Bible study and broaden your knowledge of Scripture as you explore these commentaries like never before through Logos.
Key Features
Scriptural teaching applied to life situations
Rich teachings from the saints and church fathers
Engaging questions and discussion points for deeper Bible study
Contents
1, 2, & 3 John: Apostle of Love
Habakkuk: Prophet of Faith, Hope and Love
James 1–2: Real Faith Works
James 3–5: Wisdom from Above
Galatians 1–2: Loyalty to the Gospel
Galatians 3–4: Adoption into Christ
Galatians 5–6: The Fruit of the Spirit
Jonah & Nahum: Resisting God's Call
Micah 1–2: End of Historical Jerusalem
Micah 3–7: Rise of Spiritual Jerusalem
Baruch 1–2: Prophecy in Exile
Baruch 3–6: Act of Contrition
Daniel 1–6: The Prophet in His Youth
Daniel 7–14: Daniel in Old Age
Jude: Concerning Angels
Haggai & Zechariah 1–6: Prophets of Rebuilding
Zechariah 7–14: Your King Comes
1 Peter: First Papal Encyclical
2 Peter: Christ Will Come Again
Joel: Prophet of the Spirit
1 & 2 Timothy, Titus: Pastoral Wisdom
Zephaniah & Malachi: Prophets of Doom and Hope
About the Authors
Laurie W. Manhardt holds a BA in psychology from the University of Detroit and a PhD in education from the University of Michigan. She led an interfaith Bible study for 10 years, which convinced her of the need for quality Catholic Bible study resources. The Come and See: Catholic Bible Study Series is the result.
Joseph Ponessa was ordained in 1974 for his home diocese of Great Falls-Billings, Montana, where he serves as pastor. Mount Angel Seminary in St Benedict, Oregon, awarded him an MA in theology, and the Pontifical Biblical Institute (Biblicum) in Rome has conferred the doctorate in Sacred Scripture. Ponessa speaks American English, Italian, Spanish, and French, and he reads Middle English, Latin, Hebrew, Greek, German, Arabic, and Biblical Aramaic.
Reviews
What other people are saying about Come and See: Prophets and Apostles.