Come and See: Wisdom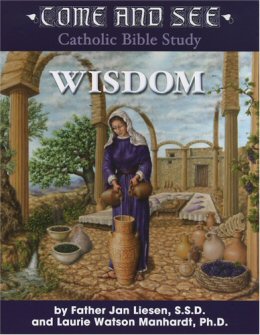 Overview
Come and See: Wisdom covers the wisdom literature of the Bible found in the Old Testament—Job, Psalms, Proverbs, Ecclesiastes, the Song of Solomon, Wisdom and Sirach. This study uses modern study tools—inductive and deductive learning, the Catechism of the Catholic Church and the writings of popes and saints—to unearth old wisdom still relevant for today.
The Logos edition brings you more. With references to the Bible and Catechism appearing on mouseover, you can easily read source material to engage further with the subject matter. All cross-references are tagged to other resources in your library, you can easily connect with citations to the saints, popes, and doctors of the church. Enrich your Bible study and broaden your knowledge of Scripture as you explore these commentaries like never before through Logos.
Key Features
Scriptural teaching applied to life situations
Rich teachings from the saints and church fathers
Engaging questions and discussion points for deeper Bible study
Contents
Job's Situation: Job 1–2
Job Complains: Job 3–21
Faith and Friends: Job 22–37
God Answers: Job 38–42
Psalms Book I: Psalms 1–41
Psalms Books II and III: Psalms 42–72 and 73–89
Psalms Books IV and V: Psalms 90–106 and 107–150
The Value of Wisdom: Proverbs 1–9
Proverbs of Solomon: Proverbs 10–22:16
Sayings of the Wise: Proverbs 22:17–31
Reflections on Life: Ecclesiastes 1–6
Teacher of Israel: Ecclesiastes 7–12
Song of Songs: Song of Solomon 1–4
The Context of Love: Song of Solomon 5–8
Wisdom and Justice: Wisdom 1–6:21
Praise of Wisdom: Wisdom 6:22–10:21
God's Providence and Mercy: Wisdom 11–19
Wisdom in the Law: Sirach 1–10
Family and Friends: Sirach 11–22
Women: Sirach 23–32
Prayer: Sirach 33–43
Israel's Heroes: Sirach 44–51
About the Authors
Laurie W. Manhardt holds a BA in psychology from the University of Detroit and a PhD in education from the University of Michigan. She led an interfaith Bible study for 10 years, which convinced her of the need for quality Catholic Bible study resources. The Come and See: Catholic Bible Study Series is the result.
Jan Liesen is a librarian and professor of New Testament exegesis, biblical theology, and Hebrew Bible at the Seminaire Rolduc in Kerkrade, Netherlands. He received his doctorate in Sacred Scripture from the Pontifical Biblical Institute (Biblicum) of Rome.
Reviews
What other people are saying about Come and See: Wisdom.