The New Revised Standard Version Bible (NRSV)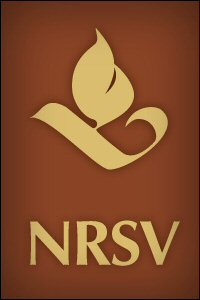 Overview
The New Revised Standard Version (NRSV), released in 1989, is an English translation of the Protestant Bible and the Apocrypha. The NRSV is updated revision of the Revised Standard Version, itself a revision of the American Standard Version. It maintains the traditions of the older versions with fresh new vocabulary and modern English construction, designed to meet the needs of churches and individuals from a wide range of backgrounds.
The NSRV, translated with the benefit of the Dead Sea Scrolls, reflects manuscript discoveries and advances in modern scholarship. This translation also adopts a policy of gender inclusive language and eliminates usage of archaic second person familiar forms, "thee" and "thou."
Contributing Scholars Include:
William A. Beardslee
Sherman E. Johnson
Katharine D. Sakenfeld
Harry S. Orlinsky
James A. Sanders
Reginald H. Fuller
Demetrios J. Constantelos
Product Details
Title: New Revised Standard Version (NRSV)
Language: English
Reviews
What other people are saying about The New Revised Standard Version Bible (NRSV).