Reading 1 Corinthians in the Twenty-First Century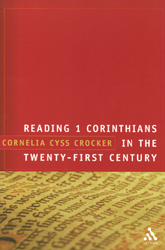 Overview
Cornelia Cyss Crocker uses the insights of hermeneutics and other critical methods to offer a new reading of 1 Corinthians. One of the challenges of reading 1 Corinthians these days is that its style seems foreign to us and many of its passages seem irrelevant to us today. On the other hand, many of the passages have become too familiar, overly authoritative, and too oppressively close for comfort in the lives of many Christians.
Since much of Paul's letter discusses decisions that have been made or ought to be made by the Corinthians about people, beliefs, behaviors, and situations, Cyss reads 1 Corinthians in terms of discernment and judgment. Reading 1 Corinthians in the Twenty-First Century is an insightful companion for anyone wishing to study this important epistle with modern critical tools and methods.
Praise for the Print Edition
Crocker raises some valuable questions...[and contains] some noteworthy insights as well as a valuable summary of the historical-critical methods used for interpreting 1 Corinthians.
—Themelios
Crocker's study is congruent with current… attempts to move beyond reductionist approaches to Paul... should serve to change how Paul is viewed, to open up new possibilities for appropriating his message, and to stir debate about its implications for praxis.
—Maria Pascuzzi
Here is a critical, but not a final, reading, taking three exploratory trenches through the 'tell' that is this text. Would Paul recognize himself in this appeal for ecclesiastical transformation and equal opportunities? But he would welcome the opening up of his words of power to twenty-first-century readers.
— John M Court, Theology
Dr. Crocker's book is a mature and synthetically creative academic work that offers an analysis of the aporetic tensions that determine the Apostle Paul's eschatology, ecclesiology, and ethics, particularly the seemingly contradictory pronouncements on judging and discerning. Especially original is her utilization of Mikhail Bakhtin's 'dialogism' to move beyond the limitations of rhetorical criticism in order to perceive the many voices that are discernable throughout the letter.
—Herman C. Waetjen, The Robert S. Dollar Emeritus Professor of New Testament of San Francisco Theological Seminary and Graduate Theological Union
Cornelia Cyss Crocker draws together recent scholarship on aporia, Mikhail Bakhtin's literary theory, as well as in-depth study of Pauline literature and scholarship to produce a truly profound thesis that can and will change how Paul is viewed.
—Douglas R. McGaughey, Chair, Department of Religious Studies and Department of Classical Studies, Willamette University, Salem, OR
Product Details
Title: Reading 1 Corinthians in the Twenty-First Century
Author: Cornelia Cyss Crocker
Publisher: T & T Clark
Publication Date: 2004
Pages: 264
About Cornelia Cyss Crocker
Cornelia Cyss Crocker is an instructor at San Francisco Theological Seminary and is the author of several articles on 1 Corinthians, Mikhail Bakhtin, and biblical interpretation.
Sample Pages from the Print Edition
Reviews
What other people are saying about Reading 1 Corinthians in the Twenty-First Century.