The Church History of the First Three Centuries, vol. 1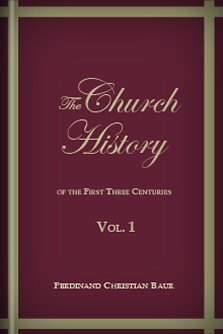 Williams and Norgate
, 1878
Overview
The history of the development of Christianity dates of course form the departure of Jesus from the world. But in Paul, this history has a new beginning; from this point we are able to trace it not only in its external features, but also in its inner connection. F.C. Baur traces the rise and development of Christianity through the first three centuries.
Contents
First Part: The Entrance of Christianity into the World: Primitive Christianity

The Universalism of the Roman Empire as a Preparation for Christianity
Christianity and the Old Religions
Greek Philosophy
Judaism
Primitive Christianity: The Gospels
The Original Christian Principle
The Kingdom of God
The Person of Jesus—The Messianic Idea
The Death and Resurrection of Jesus
Second Part: Christianity as a Universal Principle of Salvation: The Conflict between Paulinism and Judaism, and Its Adjustment in the Idea of the Catholic Church

The Conflict
The Reconciliation
Johannine Christianity
Third Part: Christianity as an Ideal Principle of the World

Gnosticism
Montanism
The Catholic Church as the Antithesis of Gnosticism and Montanism
Product Details
Title: The Church History of the First Three Centuries, vol. 1
Author: F.C. Baur
Publisher: Williams and Norgate
Publication Date: 1878
Pages: 256
About F.C. Baur
Ferdinand Christian Baur (1792–1860) was educated at the University of Tübingen where he later taught as a professor of theology and is credited with founding the movement known as the "Tübingen School" of New Testament criticism. He applied Hegelian philosophy to Christian history in order to develop a new understanding about how Christianity developed.
Reviews
What other people are saying about The Church History of the First Three Centuries, vol. 1.