T&T Clark Studies in Theological Systems (5 vols.)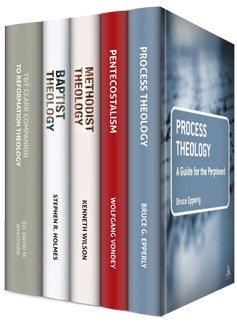 Overview
This collection of T&T Clark guides and companions offers in-depth yet accessible introductions to several major theological traditions for seminary and university students, pastors, and interested laypeople. The T&T Clark Companion to Reformation Theology is a major reference work on all aspects of theology in the Reformation period. Stephen R. Holmes' Baptist Theology presents the history and development of Baptist theology, as well as a presentation of its unifying characteristics. In Methodist Theology, Kenneth Wilson provides a comprehensive overview of the rich history and theology of the Methodist tradition. Wolfgang Vondey presents a helpful introduction to one of the youngest, yet fastest-growing Christian traditions in Pentecostalism: A Guide for the Perplexed. And in Process Theology: A Guide for the Perplexed, Bruce G. Epperly provides a clear and accessible introduction to one of the more challenging theological systems to understand and interact with.
The Logos Bible Software edition of the T&T Clark Studies in Theological Systems streamlines and enhances your study. Scripture passages link directly to your English translations and original-language texts, and important theological concepts link to dictionaries, encyclopedias, and a wealth of other resources in your digital library. Perform powerful searches by topic to find what other authors, scholars, and theologians have to say about infant baptism, covenant theology, the gift of tongues, and more.
Key Features
Simplified explanation of technical concepts
Syntheses of diverse theological perspectives from experts in the field
Guides to major Christian traditions, all in one place
Product Details
Title: T&T Clark Studies in Theological Systems
Publisher: T&T Clark
Volumes: 5
Pages: 1,288
Reviews
What other people are saying about T&T Clark Studies in Theological Systems (5 vols.).