The Power of Suffering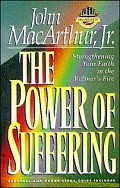 Overview
John MacArthur discusses the reasons trials come our way and how believers can learn valuable lessons from God as a result of suffering. Strengthening your faith in the refiner's fire for everyone who has ever faced profound trials, physical or spiritual, and found themselves asking "Where is God in the midst of the pain?" The Power of Suffering examines the reality of pain and trials in the Christian life and offers a plausible, thoroughly biblical explanation for the deep valleys each of us inevitably cross.
Product Details
Title: The Power of Suffering
Author: John MacArthur
Publisher: Victor Books
Publication Date: 1995
Pages: 192
Reviews
What other people are saying about The Power of Suffering.