The New Israel: A Commentary on Isaiah 56-66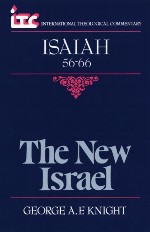 Overview
"'Isaiah' provides us with a picture," writes George A. F. Knight, "a pattern of revelation, hewn out of the facts of history." In this book, which serves as a sequel to the author's Servant Theology (the International Theological Commentary on Isaiah 40-55) with appropriate attention to significant critical issues.
Emphasizing Israel as "a light to the nations," Knight is concerned throughout with the theological issues of contemporary, international scope. He sees Isaiah as addressed to the social, historical situation not only of its own day but of this day as well, with significance for Jews and Muslims as well as Christians—"a book meant for all who come after."
Product Details
Title: The New Israel: A Commentary on Isaiah 56-66
Author: George A. F. Knight
Publisher: Eerdmans
Publication Date: 1984
Pages: 125
Reviews
What other people are saying about The New Israel: A Commentary on Isaiah 56-66.