Seeking the Face of God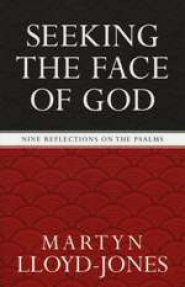 Overview
Martyn Lloyd-Jones reflects on nine passages from the Psalms and weaves them together with everyday life and the world in which we live. He reminds us that the Psalms are much more than beautiful songs; in the psalmists' words we find the way for living the Christian life.
For those just beginning to study the Psalms as well as those who know them well and wish to consider them from a new angle, this collection of sermons from one of the greatest preachers of the twentieth century will move your mind to greater understanding and your heart to deeper worship.
Product Details
Title: Seeking the Face of God
Author: D. Martyn Lloyd-Jones
Publisher: Crossway
Publication Date: 2005
Pages: 172
Reviews
What other people are saying about Seeking the Face of God.