Revival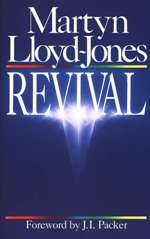 Overview
Clear and decisive messages about the need for revival in each generation, the circumstances leading to past revivals and how to rekindle revival today. From the former minister of Westminster Chapel.
Revival is the lifeblood of a vital church. Without the fervor revival brings, the church cannot accomplish its mission in the world. Yet today's church is rife with apathy. How can revival be rekindled? Clearly and forcefully, Dr. Lloyd-Jones describes the circumstances which produced past revivals, discerns why each generation needs revival, and shows how revival will come about today.
Product Details
Title: Revival
Author: D. Martyn Lloyd-Jones
Publisher: Baker
Publication Date: 1987
Pages: 316
Reviews
What other people are saying about Revival.