Interpreting the Synoptic Gospels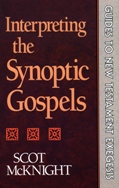 Overview
McKnight critiques various interpretive methods and suggests how students with some knowledge of Greek can benefit from different analyses.
Careful study of the synoptic Gospels can be a life–transforming experience. Yet for many, such study is unexciting because they fail to take the required time, they simply do not know how to study the synoptic Gospels, or they do not have the necessary background to guide them through various passages. This book is intended to help students formulate principles and methods for studying the synoptic Gospels.
Product Details
Title: Interpreting the Synoptic Gospels
Author: Scot McKnight
Publisher: Baker
Publication Date: 1988
Pages: 141
Reviews
What other people are saying about Interpreting the Synoptic Gospels.