College Press NIV Commentary: Genesis, Volume 1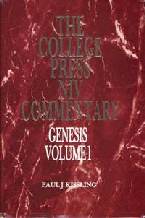 Overview
The first book of the Old Testament speaks of beginnings. It functions as the introduction to the Pentateuch and is foundational to the understanding of the rest of the Bible. Genesis is designed to be read theologically. It is written to provide guidance to God's people about how to conduct their lives as they face the pressures of conformity to the culture and religion of Canaan. Its center of interest seems to be God's creational intentions for humanity and what He does in response to humanity's refusal to submit to those intentions and go his or her own way. God's desire is to bring humanity back to their created purpose and relationship with Him.
This resource is also included in the College Press NIV Commentary Series: Old Testament (16 Volumes).
Product Details
Title: College Press NIV Commentary: Genesis, Volume 1
Author: Paul Kissling
Publisher: College Press
Publication Date: 2004
Pages: 392
Reviews
What other people are saying about College Press NIV Commentary: Genesis, Volume 1.