College Press NIV Commentary: Ezekiel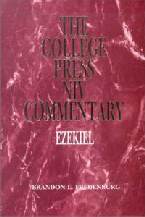 Overview
The book of Ezekiel is notoriously strange. Ezekiel's visions, actions, and words are bizarre "sometimes utterly incomprehensible" to us. He lies on his side for over a year, he eats a scroll, he is asked to cook with human waste, and he cannot cry at his wife's death. Ezekiel's message seems unavailable to many because we simply don't have "ears to hear."
Product Details
Title: College Press NIV Commentary: Ezekiel
Author: Brandon L. Fredenburg
Publisher: College
Publication Date: 2002
Reviews
What other people are saying about College Press NIV Commentary: Ezekiel.