Winning the War Within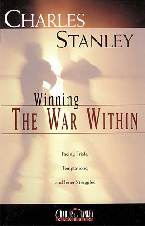 Overview
A few moments of illicit pleasure, a few dollars of illegal gain—what can it hurt? The aftermath of our pleasures and gains can wreak spiritual havoc when those indictments are bought at the cost of wrongdoing. In Winning the War Within, Dr. Stanley examines temptation from a biblical perspective and tracks its course from desire to sin to death. He clarifies the distinction between a test or a trial (which may come from God), and a temptation (which never comes from God) and explains God's solutions for coping with the trials and for triumphing over temptations.
Product Details
Title: Winning the War Within
Author: Charles Stanley
Publisher: Thomas Nelson
Publication Date: 1988
Reviews
What other people are saying about Winning the War Within.