Old Testament Textual Criticism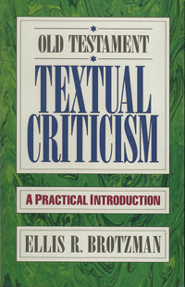 Overview
Old Testament Textual Criticism provides the basic knowledge for students to get the most from Biblia Hebraica Stuttgartensia.
Dr. Ellis Brotzman explains the significance of scripts and writings of the ancient Near East, the Dead Sea Scrolls, and Hebrew manuscripts for students of Hebrew exegesis. Students are lead through the steps involved in using BHS and other resources to evaluate variant readings. Brotzman sheds light on the origin and nature of Hebrew texts and versions, thereby helping scholars, students, and pastors more fully understand the Old Testament.
Praise for the Print Edition
Simplifies a lot of things that are found elsewhere but are difficult for most students to assimilate.
—Douglas Stuart, Gordon-Conwell Theological Seminary
Provides an introduction to matters relating to the transmission of the text of the Hebrew Bible, a discussion of accepted procedures for evaluating textual variants, and guidelines for making an informed use of the text-critical data recorded in BHS.
—Richard Taylor, Dallas Theological Seminary
The first half of this book is an excellent general introduction to the text of the Old Testament, its history and transmission. … The second half of the book is for those with at least a year of Hebrew under their belts. … Brotzman, with his gift for illustrations and simplification, is an excellent place for the intermediate student to begin.
—Lee Gatis,Churchman
Product Details
Title: Old Testament Textual Criticism: A Practical Introduction
Author: Ellis R. Brotzman
Publisher: Baker
Publication Date: 1994
Pages: 208
About Ellis Brotzman
Ellis Brotzman is associate professor and chairman of the Old Testament department at Tyndale Theological Seminary, The Netherlands. He holds a Ph.D. in Hebrew and Semitic Languages from New York University. He is the author of Jonah: Computer Generated Tools for the Correlated Greek and Hebrew Texts
Sample Pages from the Print Edition
Reviews
What other people are saying about Old Testament Textual Criticism.