JSOTS on Israel and Moses (4 vols.)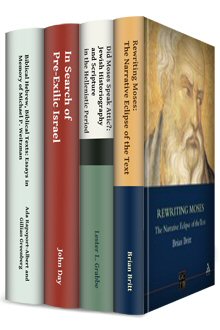 Overview
The resources in this collection offer the academic compelling discourse on historical methodology in the study of the Old Testament. One book pays tribute to the late Michael P. Weitzman, distinguished scholar of the Hebrew language, by concentrating on important topics in Isaiah, Hosea, and Job, as well as ancient versions of the Hebrew Bible, intertestamental texts, and Eastern Church traditions. Two books discuss with acumen, although not with agreement, the issue of Moses, the Bible and the Hellenistic Period. The final book's topic is again Moses, but it looks at the patriarch through a many-sided prism.
The Journal for the Study of the Old Testament Supplement (renamed the Library of Hebrew Bible/Old Testament Studies in 2005) is a premier book series that offers cutting-edge work for a readership of scholars, teachers in the field of Hebrew Bible/Old Testament studies, postgraduate students and advanced undergraduates. All the many and diverse aspects of Old Testament study are represented and promoted in the series, including innovative work from historical perspectives, studies using social-scientific and literary theory, and developing theological, cultural and contextual approaches.
Key Features
Diverse aspects of topics in Isaiah, Hosea, and Job
Ideal for students and teachers
Individual Titles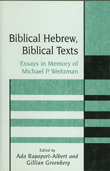 Biblical Hebrew, Biblical Texts: Essays in Memory of Michael P. Weitzman
Editors: Ada Rapoport-Albert and Gillian Greenberg
Publication Date: 2001
Pages: 507
This book is a collection of articles written by a distinguished array of scholars, focusing on the Hebrew Bible, its ancient versions and textual history—the fields in which the late Dr. Weitzman worked—and is an authoritative assemblage of current research in these and closely related fields. Michael P. Weitzman was Reader in Hebrew and Jewish Studies at University College London. He taught and supervised research in Hebrew language, the Hebrew Bible and its literary history, and rabbinic texts for twenty-six years. The contributors include: Edward Ullendorff, Andrew Macintosh, Robert Gordon, Philip Alexander, Alison Salvesen, Michael M. Winter, and Gillian Greenberg.
Ada Rapoport-Albert is Head of the Department of Hebrew and Jewish Studies, University College London. She is the author of Essays in Jewish Historiography.
Gillian Greenberg is Lecturer in Syriac, Department of Hebrew and Jewish Studies, University College London. Greenberg entered the field of biblical studies after retiring from her first career as a clinical medical researcher. She is the author of Translation Technique in the Peshitta to Jeremiah.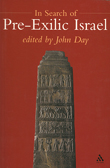 In Search of Pre-Exilic Israel
Editor: John Day
Publication Date: 2004
Pages: 433
In recent years there has been a tendency among certain scholars, such as Philip Davies, Thomas Thompson, and Niels Peter Lemche, to claim that little can be known about pre-exilic Israel, because the Old Testament was only compiled in the post-exilic period. One scholar (Lemche) has even claimed that the Old Testament is a Hellenistic work. The purpose of this book is to argue that this is an extreme and untenable position and that, though much of the Old Testament was indeed edited in the exilic or post-exilic period, many of the underlying sources go back to the pre-exilic period and, when critically analyzed, can shed much light on that period. This volume surveys not only historiography but also various aspects of what can be known of pre-exilic prophecy, law, wisdom and psalmody. This important work is the product of a team of seventeen international scholars, no fewer than five of whom are Fellows of the British Academy.
John Day is Professor of Biblical Studies in the University of Oxford and Fellow and Tutor of Lady Margaret Hall, Oxford. His research interests lie in Old Testament languages, literature, history, theology, religion and archaeology, especially in the light of their ancient near eastern background. He is the author of Temple and Worship in Biblical Israel.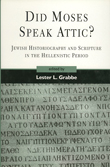 Did Moses Speak Attic?: Jewish Historiography and Scripture in the Hellenistic Period
Editor: Lester L. Grabbe
Publication Date: 2001
Pages: 347
Is the Bible a Hellenistic book? The essays in this volume respond to that challenging question, formulated by Niels Peter Lemche, and offer everything from qualified agreement to vociferous opposition. In so doing, they debate and illuminate the many features of Jewish writing in the Second Temple period, including not only the Scriptures themselves and their own history, but the non-canonized literature of the late Second-Temple period. The purpose of the essays presented here is to, in Grabbe's words, "thrash out questions of historical methodology." Lester Grabbe introduces the discussion, contributes several articles, and concludes the text with a reflection. Joining him are: Niels Peter Lemche, Rainer Albertz, Hans M. Barstad, Kai Peltonen , Bob Becking, Robert P. Carroll, Philip R. Davies, David M. Gunn, Thomas L. Thompson.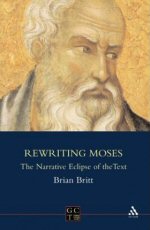 Rewriting Moses: The Narrative Eclipse of the Text
Author: Brian Britt
Publication Date: 2004
Pages: 216
Moses is not only inseparable from biblical tradition he is an inherently ambiguous figure and often a perennial focus of controversy. Brian Britt traces the development of biblical and post-biblical traditions about Moses by analyzing elements of polemic and ideology in the Moses of the Bible and in scholarly writings, as well as the Moses depicted in film, novels, and visual art. He is able to effectively integrate literary criticism with historical criticism.
Brian Britt received his Ph.D. from the University of Chicago Divinity School and is Associate Professor and Director of Religious Studies in the Center for Interdisciplinary Studies, Virginia Polytechnic Institute and State University.
Product Details
Title: JSOTS on Israel and Moses (4 vols.)
Volumes: 4
Pages: 1,503
Reviews
What other people are saying about JSOTS on Israel and Moses (4 vols.).