Surprised by Suffering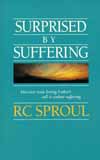 Overview
This is more than a book of theology or a biblical study. It is an examination of questions that all of us ask about our ultimate destiny. It offers Christian answers while responding to unbiblical conclusions. This book provides a sane, rational, and biblical view among all the confusion surrounding suffering, suicide, euthanasia, and life after death.
Product Details
Title: Surprised by Suffering
Author: R. C. Sproul
Publisher: Tyndale
Publication Date: 1996
Pages: 214
Reviews
What other people are saying about Surprised by Suffering.