Perspectives on Paul Collection (8 vols.)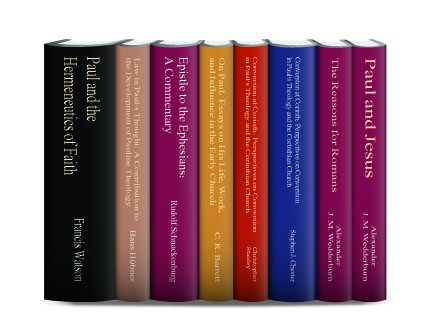 Overview
The Perspectives on Paul Collection offers a myriad of innovative explorations certain to stir the imagination of all interested in the field of Pauline studies. In eight volumes, world-renowned scholars assess Paul and his contributions to Christianity through the lenses of theology, history and literary criticism.
Issues considered include Paul's theological development between Galatians and Romans, the use of Scripture in his arguments, his views on conversion, the motivations behind his epistle to the Romans, the relationship between his message and that of Jesus, and much more. Included also is Rudolf Schnackenburg's significant commentary on Paul's epistle to the Ephesians which Graham Stanton describes as "the finest available commentary on Ephesians in any language." Those involved in the pursuit of Pauline thought will find the Perspectives on Paul collection to be a worthwhile investment.
Key Features
Eight titles of exploration on Pauline studies
Theology, history, and literary criticism are used
Product Details
Title: Perspectives on Paul Collection
Publisher: T. & T. Clark
Volumes: 8
Pages: 2,372
Individual Titles
Reviews
What other people are saying about Perspectives on Paul Collection (8 vols.).