The JPS Bible Commentary: Esther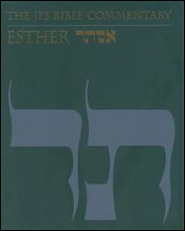 Jewish Publication Society
, 2001
Overview
The commentary approaches the Book of Esther from a fresh literary point-of-view. It includes essays entitled "When and Where Was the Book of Esther Written?"; "Sex and Spies"; "Rabbinic Interpretation"; and many others. Recipient of the Prize of the Minister of Science, Culture, and Sport [of the State of Israel] for classical literature for the year 5762 [2001].
Praise for the Print Edition
This informative commentary ... dissects the Book of Esther and, by extension, the Jewish holiday of Purim. Berlin begins with a lengthy introduction, discussing Esther as comedy and as Diaspora literature; the introduction does a fine job of explaining the Persian period and its various art forms.
—Publishers Weekly
Product Details
Title: The JPS Torah Commentary: Esther
Author: Adele Berlin
Series: JPS Torah Commentary
Publisher: Jewish Publication Society
Publication Date: 2001
Pages: 110
About Adele Berlin
Adele Berlin, a scholar of biblical and ancient Near Eastern literature, has developed the Biblical Studies program at the University of Maryland and has designed and taught courses on biblical narrative and poetry, ancient Near Eastern culture and literature, and methods of biblical interpretation.
About the Jewish Publication Society
The Jewish Publication Society of America was founded in Philadelphia in 1888 to provide the children of Jewish immigrants to America with books about their heritage in the language of the New World. As the oldest publisher of Jewish titles in the English language, the mission of JPS is to enhance Jewish culture by promoting the dissemination of religious and secular works of exceptional quality, in the United States and abroad, to all individuals and institutions interested in past and contemporary Jewish life.
Over the years JPS has issued a body of works for all tastes and needs. Its many titles include biographies, histories, art books, holiday anthologies, books for young readers, religious and philosophical studies, and translations of scholarly and popular classics. It is perhaps known best for its famous JPS Tanakh, the translation of the Hebrew Bible in English from the original Hebrew.
Reviews
What other people are saying about The JPS Bible Commentary: Esther.