Classic Commentaries and Studies on the Epistles of Peter and Jude Upgrade (12 vols.)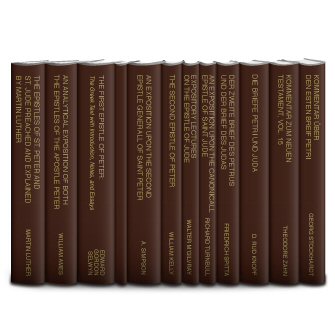 Overview
Exegesis is an intricately detailed task, and it requires thorough analysis from multiple sources. The Classic Commentaries and Studies on the Epistles of Peter and Jude Upgrade provides thorough expository and exegetical analysis from multiple authors and varied perspectives. The collection emphasizes practical application, provides critical commentaries, and discusses each book's authorial authenticity, as well as the identity and circumstance of its recipients. These volumes represent nearly 500 years of commentary on these short epistles, and include commentaries by authors who—like Peter's audience—were being persecuted, such as Martin Luther.
With the Logos editions, these valuable volumes are enhanced by amazing functionality and features. Scripture and ancient-text citations link directly to English translations and original-language texts, and important terms link to dictionaries, encyclopedias, and a wealth of other resources in your digital library. Perform powerful searches with the Topic Guide to instantly gather relevant biblical texts and resources. Tablet and mobile apps let you take the discussion with you. With Logos Bible Software, the most efficient and comprehensive research tools are in one place, so you get the most out of your study.
Key Features
Features classic Reformed and Lutheran commentaries on 1 Peter and Jude
Examines the Greek text and emphasizes practical application
Presents commentary written over 500 years
Product Details
Title: Classic Commentaries and Studies on the Epistles of Peter and Jude Upgrade
Volumes: 12
Pages: 3,270
Resource Type: Commentaries
Topic: Catholic Epistles
Individual Titles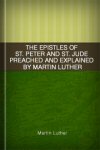 This first English edition of Martin Luther's lectures on the epistles of 1 and 2 Peter and Jude provides an exegetical examination of the Greek text with theological application. The translator, E.H. Gillett, notes that his translation of Luther is literal but clear and preserves "the clearness of [Luther's] exposition" and the "stinging force of its rebukes." Drawing on the Petrine epistles and Jude, the commentary elucidates the distinction between faith and works, while also allowing, states Gillett, "the subjects presented in the text afford full opportunity for discussing the great questions that concern the relative duties of civil and social life."
Martin Luther, (1483–1546) the father of the Reformation, is one of the most significant figures in Western history. His innovative use of the printing press, his translation of the Christian Bible into German, and his doctrinal teachings transformed European society. Born in 1483 to middle-class parents in Saxony, he became an Augustinian monk, a priest, a professor of biblical literature, and a reformer. His marriage to Katherine von Bora (Katie Luther) is one of Western society's greatest love stories. He died in 1546 after having successfully produced a profound shift in faith, politics, and society. Though still a subject of controversy, Luther's effect on Christianity has persisted, and his writings and teachings inspire Protestant believers all over the world to this day.
With a strong eye to practical application and the personal holiness of his readers, early Reformed scholar William Ames' An Analytical Exposition of Both the Epistles of the Apostle Peter unpacks the text of 1 and 2 Peter verse by verse. Ames' explanations are succinct and accessible, and focus on points of theological doctrine—especially those verses pertinent to debates about Catholicism—as well as points of historical interest.
William Ames (1576–1633) was an English Protestant divine, philosopher, and theologian. He was educated at Christ's College, Cambridge, and was profoundly influenced by his instructor, William Perkins. He was later suspended from Cambridge for condemning excessive Christmas celebrations. He moved to Holland, where he became one of the most popular proponents of Calvinist theology and debated multiple Arminian theologians, including Nicholas Grevinckhoven, and other Remonstrants. Ames later attended the Synod of Dort.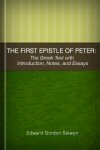 The First Epistle of Peter: The Greek Text with Introduction, Notes, and Essays
Author: Edward Gordon Selwyn
Publisher: MacMillan & Co.
Publication Date: 1946
Pages: 517
A modern critical commentary, Edward Gordon Selwyn's The First Epistle of Peter provides a comprehensive academic-level commentary on 1 Peter. He provides a comprehensive examination of the Greek text of 1 Peter and rejects, in part, the widely held belief that its recipients were undergoing persecution in favor of the belief that the epistle addresses suffering as a general theme. Selwyn also examines issues of authorship, provenance, and the unique role geography plays in this epistle.
Edward Gordon Selwyn (1885–1959) was an Anglican priest and theologian. He was the editor of the journal Theology, and wrote several books, including The Teaching of Christ, The Approach to Christianity, and The White Horseman and Other Sermons.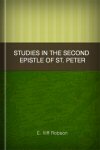 2 Peter presents many unique problems to New Testament scholars. In Studies in the Second Epistle of St. Peter, E. Iliff Robson examines the entirety of the epistle in order to establish a coherent portrait of its contents aiming to provide the context for solving the epistle's most perplexing issues, including authorship, provenance, and recipients. To this end, Robson examines the text, with special emphasis on understanding its lexical selections, its use of known literary formulas, and the degree to which the epistle alludes to canonical and postapostolic literature and figures.
E. Iliff Robson was a classical scholar and expert in the Greek language. He is best known for his translation of Arrian's Roman History and his 1929 publication Alexander the Great: A Biographical Study.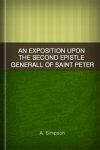 Andrew Symson's An Exposition upon the Second Epistle presents a sermon-style commentary that focuses on practical application and personal holiness. Following the letter verse by verse, Symson unpacks the meaning of the text with an emphasis to edifying those who are struggling in their faith.
A. Symson (c. 1601) was an early English Puritan minister and author.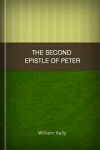 This readable commentary focuses on explaining the text and relating the message of 1 and 2 Peter to the rest of the New Testament. With clear language and a pastoral tone, William Kelly addresses difficult questions of authorship, the identity of the recipients, and practical issues relevant to the life of faith.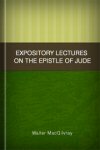 Verse by verse, Walter MacGilvray unpacks the epistle of Jude. He examines issues of authorship and audience, while explaining the text of the book in accessible language. MacGilvray draws out the theological implications of the book and highlights practical applications.
Walter MacGilvray (b. 1810) was a historian, biblical scholar, and author.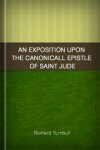 Written well before the modern era, this commentary focuses on deriving spiritual lessons for personal holiness from the Epistle of Jude. Writing from the perspective of the Puritan tradition, Turnbull emphasizes Reformed doctrine and practical application.
Richard Turnbull (d. 1593) was a Puritan minister and separatist.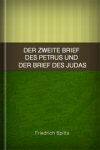 Der Zweite Brief des Petrus und der Brief des Judas
Author: Friedrich Spitta
Publisher: Verlag der Buchhandlung des Waisenhauses
Publication Date: 1885
Pages: 240
This commentary by Friedrich Spitta is well known for its examination of the authenticity and date of authorship of 1 and 2 Peter and Jude. Combining exegetical with intertextual analysis, Spitta argues for the priority of 1 Peter, and for the authenticity of 2 Peter. The book discusses other issues drawn out by exegetical analysis, all leveraged to serve Spitta's theses about authenticity and authorship. This commentary is written in German.
Friedrich Spitta (1852–1924) was professor ordinarius at Göttingen and Erlangen, and university preacher at St. Thomas Church, Strasborg. He is most famous for his book Acts of the Apostles: Their Source and Historical Value.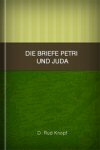 Written in German, Die Briefe Petri und Juda is a critical commentary on the text of 1 and 2 Peter and Jude. Focusing on technical issues such as the Greek text, historical context, authorship, and provenance, Knopf provides a comprehensive study of these small but illuminating New Testament books.
D. Rudolf Knopf (1874–1920) was professor of theology and New Testament at Vienna.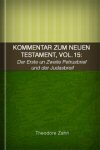 A high-level technical commentary, Gustav Wohlenberg's work examines the Petrine epistles and Jude from a traditional perspective. Using the text, he argues for the authenticity of the epistles, and that the circumstances of the recipients described in the letters represent the actual circumstances of its recipients. Full exegetical analysis is provided and is based on the Greek text. This commentary is written in German.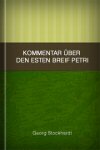 Georg Stöckhardt's succinct commentary introduces readers to the major issues and text of Peter's letters. This commentary is written in German.
Georg Stöckhardt (1841–1913) was professor of exegesis at Concordia Seminary and pastor of Holy Cross Lutheran Church, both in St. Louis. He was born in Saxony, Germany, and was educated at the universities of Erlangen, Leipzig, and Berlin.
Reviews
What other people are saying about Classic Commentaries and Studies on the Epistles of Peter and Jude Upgrade (12 vols.).