Life as a Vapor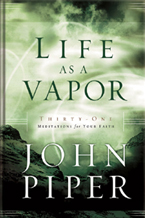 Overview
Life Is Short. Eternity Is Long. Live Like It. You will exist forever. You and God are both in the universe to stay—either as friends on his terms, or enemies on yours. Which it will be is proven in this life. And this life is a vapor. Two seconds, and we will be gone. Surely God means for our time on earth to count for something significant. In these thirty-one meditations, John Piper will connect you to a fresh understanding of God and a renewed relationship with him. You'll find your faith stirred to make every day count for Christ as you consider life as a vapor.
Praise for the Print Edition
I will forever live my life trying to remember the important message I have learned from Pastor Piper—to glorify God by enjoying Him forever.
—Mac Powell, Third Day
John Piper remains a trustworthy and faithful voice, urging God's people to behold, partake of, delight in, and live for the glory of God.
—Steve Green
John Piper's books continue to renew my sense of wonder at the mystery and wildness of our Creator God. I am thankful for his sensitivity to both the head and the heart of the gospel of Jesus.
—Charlie Lowell from Jars of Clay
Product Details
Title: Life as a Vapor
Author: John Piper
Publisher: Multnomah
Publication Date: 2004
Pages: 180
About John Piper
John Piper, pastor for preaching and vision at Bethlehem Baptist Church in Minneapolis, Minnesota since 1980, is a widely respected theologian and bestselling author. Born in Chattanooga, Tennessee, and raised in Greenville, South Carolina, Piper attended Wheaton College where he majored in literature and minored in philosophy. He completed his Bachelor of Divinity at Fuller Theological Seminary, where he studied under Dr. Daniel Fuller. Piper received his Doctorate in Theology from the University of Munich and taught biblical studies for six years at Bethel College.
His preaching and teaching is featured daily on the radio program, Desiring God. His books include The Passion of Jesus Christ, Desiring God, The Pleasures of God, Life as a Vapor, and the Gold Medallion Award-wining Pierced by the Word.
Reviews
What other people are saying about Life as a Vapor.